Chrissy Teigen Shares Dad's Funny Reaction To John Legend's Possible EGOT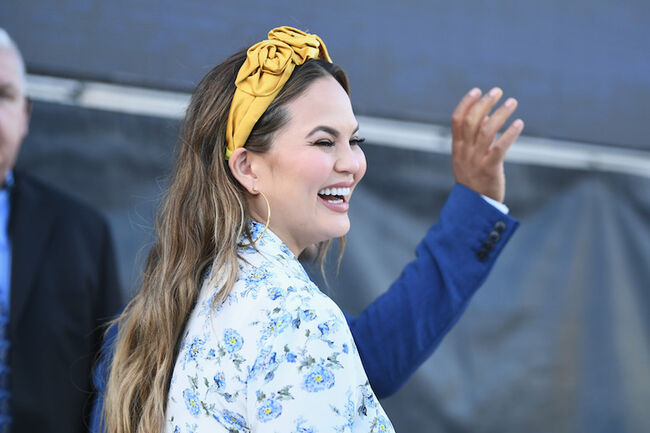 All of the 2018 Emmy nominations have been revealed, and John Legend has been nominated for two awards! John is up for his starring role in Jesus Christ Superstar Live in Concert, which debuted on NBC back in April. If John wins, he will have completed his EGOT (Emmy, Grammy, Oscar, and Tony awards).
After the nominations were released, Chrissy Teigen had tweeted how proud she was of her husband and father of her two young children. She shared, "13 nominations for Jesus Christ Superstar this morning! John got two emmy nominations! If he wins, he will complete his EGOT and my spike tv award will probably be moved. But it's ok I AM SO PROUD!"
She also shared that her show, Lip Sync Battle, also received a nomination. But she was so excited about John's EGOT, she shared the news with her dad and sent him a text. "John got two emmy nominations for Jesus Christ," she shared with her father, Ron Teigen. "He will probably get the EGOT!"
But, either her father misunderstood, or he sent a wrong text, because he texted his daughter back, writing, "Don't have any blank thumb drives but got this," in addition to a picture of a microSD card.
Chrissy shared the text exchange along with the caption, "dad is thrilled!"
Chrissy followed up her dad text tweet with an updated version of the conversation. She had responded to her father, questioning him if he saw her text about the Emmy nominations and EGOT. She asked, "Did you see my text," and followed up with, "hello."
We hope Ron is as proud of his son-in-law John as Chrissy is, but everyone loves a good dad text, and this was a great one.
John was nominated for his role in Jesus Christ Superstar for Outstanding Lead Actor, Limited Series, and the series itself was nominated in multiple categories including, Outstanding Casting For A Limited Series, Movie Or Special, Outstanding Costumes For Variety, Nonfiction Or Reality Programming, and Outstanding Directing For A Limited Series, Movie Or Dramatic Special, among others.
Photo: Getty Images